Gravenhurst is home to many courses from a cozy and truly Muskoka Par 3 Courses to Rugged and Beautiful world class courses, we can offer something for everyone when it comes to hitting the links!
Gravenhurst Courses
Gravenhurst KOA
Located between Gravenhurst and Bracebridge, this par 3, 9-hole executive golf course is a fun day for everyone.
With water and sand traps, the golf course will sure be a hit with the whole family. The holes vary in range from 67 to 142 yards. Golfing is $7.00 for adults and $5.00 for seniors and children.
Address: 1083 Reay Road
Phone: (705) 687-2333
Email: gravenhurstkoa@bellnet.ca
Muskoka Bay Club
Acclaimed architect Doug Carrick took pockets of untapped beauty, mammoth rock ridges, and wetlands to create a stunning golf course with dramatic elevation changes and serene vistas. The result is an award winning combination of playability, magnificence and challenge. Muskoka Bay Club is now offering single and family golf memberships at an exclusively discounted price.
We are honoured to be named one of the "Top 10 Golf Courses in Canada" by Golf Digest in 2019-2020. Muskoka Bay Club has received rave reviews from golfers and golf writers and many call this course Doug Carrick's best work.

Play it once and you'll want to play it forever. Muskoka Bay Club is a semi-private club offering a limited number of Single, Family and Corporate Lifetime Memberships.


Course Information:
| Tee | Course Rating | Slope | Par |
| --- | --- | --- | --- |
| Womens BLUE | 77.4 | 149 | 72 |
| Mens BLACK | 76.1 | 147 | 72 |
| Womens BLUE/WHITE | 75.9 | 145 | 72 |
| Mens GOLD | 74.2 | 143 | 72 |
| Womens WHITE | 74.1 | 138 | 72 |
| Mens BLUE | 71.4 | 136 | 72 |
| Womens WHITE/RED | 71.1 | 131 | 72 |
| Mens BLUE/WHITE | 69.8 | 131 | 72 |
| Womens RED | 69.3 | 126 | 72 |
| Mens WHITE | 68.6 | 126 | 72 |
| Mens WHITE/RED | 66.2 | 119 | 72 |
| Mens RED | 64.9 | 114 | 72 |
Taboo Resort
At Taboo Muskoka we believe that a great resort experience goes beyond a perfectly fluffed pillow, manicured golf greens and a great meal. For us, it's about feeling genuinely welcome each time and any time you connect with us. It's all about having the freedom to do what you please when it pleases you. Or maybe the pure pleasure of doing nothing at all.
At Taboo Muskoka we are proud of our unique balance of boutique hotel and expansive resort, a combination that perfectly reflects both our legendary surroundings and our modern style. Taboo Muskoka strives to be local in the very best sense of the word.
Course Information:
| Tee | Course Rating | Slope | Par |
| --- | --- | --- | --- |
| Mens BLACK | 75.1 | 145 | 71 |
| Womens WHITE | 75.0 | 147 | 71 |
| Womens WHITE/RED | 72.7 | 139 | 71 |
| Mens BLUE | 72.1 | 139 | 71 |
| Mens BLUE/WHITE | 71.1 | 137 | 71 |
| Womens RED | 70.6 | 124 | 71 |
| Mens WHITE | 69.6 | 134 | 71 |
| Mens WHITE/RED | 67.5 | 125 | 71 |
| Mens RED | 66.2 | 114 | 71 |
The Sands Golf Course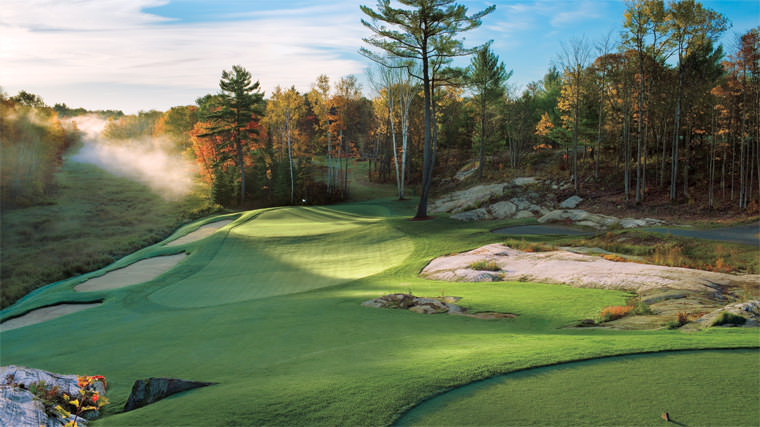 Designed by legendary Canadian golf course architect Stanley Thompson and opened in 1933, The Sands golf course at Taboo Muskoka retains the rolling lines of bunkers and greens and the "eye for the beautiful" that characterize Thompson's enduring work.
The Sands' 9 hole, par 36 layout has been updated for today's golf game by Tom McBroom while maintaining all the charm and playability of the original. Make time for nine – as a quick golf outing, a warm-up round for the Taboo Course or a family golf day – at the Sands.
Address: 1046 Muskoka Beach Rd
Phone: 1-800-461-0236
Email: reservation@taboomuskoka.com
---
Staying in Gravenhurst but want MORE Golf!
Bigwin Island
The Bigwin Island Golf Club is a par 72 championship layout measuring 7,166 yards, recently ranked 28th in Canada by SCORE Golf. The sweeping fairways drape naturally over the rugged Muskoka terrain, exposing glorious lake vistas at every turn and creating a sense of timeless beauty and tranquility.
Designed by world renowned Golf Course Architect Doug Carrick, and his design provides challenge and enjoyment to golfers of all skill levels. Every hole is surrounded by mature hardwoods, creating a sense of maturity and character typically found on the great classic courses built during the early 1900's. The holes are routed in a variety of directions over the undulating island terrain, creating constantly changing shot values, wind directions and challenges.
Deerhurst Highlands
Taking full advantage of the dramatic landscape while capitalizing on elevation changes, rugged granite outcroppings and dense forests, Cupp and McBroom created a design that is a genuine representation of the region, while maintaining a highly playable, well-balanced course that has stood the test of time. Despite its pro-level challenges, this 7,011 yard course is rewarding for a variety of playing levels. With 6 different tee deck levels including ladies, juniors and seniors.
Deerhurst Lakeside
With sweeping views of the lake, a challenging layout, and meticulous grooming from tee to green, it is evident why Deerhurst Lakeside has gained a reputation as a fair, fun and challenging course for players of all skill levels. For a quick round or a chance to warm up before the big links, the par 64 Deerhurst Lakeside lets you use every club in your bag. The driving range, practice green and well-equipped Pro Shop are great places to gear up and fine-tune your game.
Huntsville Downs
"A Destination Course" – Eighteen superb holes set in magnificent Muskoka scenery. Practice facilities, dining lounge, snack bar, private and corporate tournaments. A Par 72, 6270 yard course architecturally designed to excite and challenge the most discerning golfer. Tee it up at Huntsville Downs Golf and Country Club and experience the 'magic of Muskoka'.
Muskoka Highlands
Muskoka Highlands is the answer to quality yet affordable golf in Muskoka. Many golfers who play a variety of the clubs in the area come back to us because they believe we have among the best bent grass greens in Muskoka. Combine true greens with wide fairways and long, yet maintained gorse grass, Muskoka Highlands is sure to challenge all golfing abilities, while maintaining a fun and fast round. Expect the pace to be a little slower on busier days, but be sure to check out our Dynamic Pricing which takes course occupancy into effect when determining the price of green fee. The less busy the course, the less you'll pay per green fee. The best part about golfing at Muskoka Highlands is you don't have to leave your four-legged best friend at home. Yes, we are the only facility who will let you bring your dog so you'll never have to play alone. You may even be joined by the resident Dog-Guide in training.
Located 2 minutes from downtown Bracebridge, feel free to drop golfers of all ages off at Muskoka's only full-sized public Driving Range before heading into town to pick up the necessities for your stay in Muskoka. We have a full slate of teaching programs hosted by Denver Dafoe, a PGA of Canada certified Professional. Learn privately or in groups of up to 6 players.
North Granite Ridge
Discover a golf course that rewards all players, regardless of their score. Nestled amidst mature Muskoka forests and spectacular granite outcroppings, North Granite Ridge Golf Course was designed to provide "a natural challenge" for all golf enthusiasts. North Granite Ridge received the distinction of "Ontario's Hidden Gem" by Teeing up Ontario Awards.
North Granite Ridge Golf Club is a Championship 18 hole golf course designed by Jason Miller. Recently voted by Trip Adviser as the best public-semi private golf club in Muskoka and consistently voted as a must play destination. The variety of holes that play through these boulders and trees utilize the elevations provided by the granite ridges is second to none. "If there is a hidden gem in the world of golf, then North Granite Ridge sparkles brightly. It is up to you to come and discover this place for yourself".
South Muskoka Golf and Curling
Known as "The Best Golf Value in Muskoka", this is a classic course with a hall of fame design (Robbie Robinson) and a down-to-earth fee structure that will leave extra money in your budget for other great Muskoka attractions. Lush, rolling fairways lined by huge pines, maples, and granite out-croppings lead to large greens with subtle breaks that can be very difficult to read.
The Club is semi-private and reserves one third of its daily tee times for public players. Larger groups are welcomed and unlimited advance booking can be arranged when necessary.