The Legislative Services Department facilitates the licencing process for Refreshment Vehicles, in accordance with By-law 2020-51. Refreshment vehicle operators can acquire their licence by applying online, or by contacting the Legislative Services staff at 705-687-3412.
The licencing period is from January 1st to December 31st, each calendar year.
Online Application
Fire Department Inspection
As per section 2.3 b) of the By-law, each refreshment vehicle must pass a Gravenhurst Fire Department inspection. You may book your inspection here: Gravenhurst Fire Department Inspection Booking Form
Documents Required for an Application
Legislative Services Documents
Written permission from property owner (if leased)
Copy of Driver's Licence
Copy of Business Name Registration
Picture of Refreshment Vehicle
Copy of Vehicle Registration
Certificate of Insurance (min. $2,000,000)
Health unit certificate or letter of approval
Fire Department Documents
Certificate of propane inspection (if applicable)
Certificate of TSSA annual inspection
Certificate of fire suppression system/portable extinguisher (if applicable)
Certificate of hydro inspection (if applicable)
Fire safety plan
Fees & Charges
Fire Department inspection: $61.00
Approved Licence: $153.00
Public Park Space
Gravenhurst is looking to expand opportunities for small business owners by creating a program to allow Food Trucks or Carts to operate in Municipally designated park. In this pilot program, interested trucks and food providers can apply to book up to a two week-long space in Gull Lake Rotary Park, Muskoka Bay Park or at the Gravenhurst Centennial Centre.
Bookings will be available from May - October, with no extra charge beyond the licensing fee.

Please note that if there is an event that closes the entire park, your refreshment vehicle will not be able to operate. Please monitor our Event Calendar to be aware of Park Events. Please reach out to Legislative Department or Economic Development Division for any questions.

As per 'Schedule A' of the By-law, the following park spaces are available for operation. These spaces must be booked with Legislative Services for two-week periods:
Gull Lake Rotary Park
405 Brock Street, Gravenhurst, ON P1P 1H4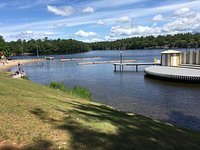 Centennial Centre
101 Centennial Drive, Gravenhurst, ON P1P 1B7
Muskoka Bay Park
700 Muskoka Road 169, Gravenhurst, ON P1P 1R2
I'm only operating my refreshment vehicle in a weekend special event. Do I need a licence?
Yes, all refreshment vehicles operating in one of our special events must apply for an annual licence and pay the applicable fees.
Your licence is valid for the calendar year, and our public park space is available to be booked for a period of two weeks. To book your space, please call the Legislative Services Department at 705-687-3412.